These are countries of fascinating ancient cultures and religions. Tour highlights: Laos, Halong Bay, Hill tribes of Vietnam, Hanoi, Ho Chi Minh City and Angkor Wat in Cambodia.....
LAND TOUR: $6,745 Canadian Starts starts in Vientiane Laos & finishes in Phnom Phen, Cambodia
AIRFARE PACKAGE: approx $1,900 Canadian. Our airfare departs Vancouver BC to Bangkok, Thailand and includes two nights accommodation in Bangkok and the flights from Bangkok to Vientiane, Laos. The flights return from Phnom Phen, Cambodia. We include the arrival & departure transfers if arriving & departing on our group tour dates.
NOTE: You do NOT have to come to Vancouver to join the tour please contact us for a quote to depart other cities

Places visited include:
LAOS: Vientiane, Luang Prabang, Mekong Deltaz
VIETNAM: Hanoi, Halong Bay, Sapa, Hue, Hoi An, Nha Trang, Dalat, Ho Chi Minh City, Mekong Delta
CAMBODIA: Siem Reap. Phnom Ph
This tour is escorted by both Norman & Julie Bruce. Julie has been leading tours to Asia for 10 years and enjoys every moment of it! This will be her third tour through Laos Vietnam & Cambodia
Vietnam is long, thin and mountainous so we fly some sections of our route so we can cover more areas of the country. However, we travel overland by our own air-conditioned coach on several sections. This allows us to see more of the countryside. Due to the poor road conditions in Laos and Cambodia we fly to and between the sites in these countries. Where possible, we try to spend more than one night in an area. Most of our hotels on this tour are of an excellent, Western 4 star standard. Our tour captures some of the highlights of this beautiful region of the world: we spend a night on a house boat in Halong Bay, a UNESCO World Heritage Site where the coast is dotted with limestone pinnacles rising vertically from the azure-blue sea. We board an overnight sleeper train to Lao Cai in the mountainous north-west of Vietnam where we learn about the local tribal peoples. No visit to Cambodia would be complete without a visit to Angkor Wat, one of the seven wonders of the world. This architectural masterpiece was built in the 12th Century and covers an area of about 210 hectares.
Limited to 24 participants
UPDATED AT: July 13 2017
ITINERARY:

DAY 1 Tuesday January 9 (Part of our airfare package )
Early this morning we fly from North America.
DAY 2 Wednesday January 10 (Part of our airfare package )
BANGKOK
Today we arrive mid day in Bangkok. The rest of the day is free for you to explore this vibrant city
First of 2 night in Bangkok Aetus Lumpini Hotel or similar
DAY 3 Thursday January 11 (Part of our airfare package )
BANGKOK
Free day in Bangkok.
Second of 2 night in Bangkok Aetus Lumpini Hotel or similar
DAY 4 Friday January 12
LAND TOUR BEGINS IN VIENTIANE, LAOS
Those taking our international flights arrive mid day in Vientiane, where we transfer to our hotel. This afternoon we visit the Carol Cassidy House to learn about traditional Lao textiles.
Overnight in Vientiane. Ansara Hotel or similar. Dinner, if arriving in time.
DAY 5 Saturday January 13
VIENTIANE, LAOS
Today we enjoy a guided tour of Laos' laid-back capital city. Hugging a bend in the Mekong River, Vientiane is a city of Buddhist temples, lively markets and French colonial mansions. Built between 1819 and 1824, Wat Sisaket is believed to be Vientiane's oldest temple to have survived the 1828 Siamese War. Inside are over 8,000 Buddha statues and more than 2,000 silver and ceramic pieces. Opposite Wat Sisaket is Wat Pra Kaeo built in 1565 to house the Emerald Buddha which now resides in Bangkok Thailand. The most important national monument in Laos, Phathat Luang is a symbol of both the Buddhist religion and Laos' independence. The original 3rd century BC stupa was reputed to have enclosed a piece of the Buddha's breastbone. Reminiscent of the Arc de Triomphe in Paris, the Patuxai is Vientiane's most prominent monument and commemorates those who died in past wars. We have a wonderful view of the city from the top. This afternoon we take a short flight from Vientiane – Luang Prabang, the ancient capital of the Lan Xang Kingdom.
First of 4 nights in Luang Prabang. Villa Santi Resort or similar. Breakfast & Dinner.
DAY 6 Sunday January 14
(Fly) VIENTIANE – LUANG PRABANG
Today we take a guided tour of the city, which is famous for its historic temples and beautiful mountain setting. The whole city is a UNESCO World Heritage site. We explore Wat Xieng Thong, a peaceful monastery with a richly-decorated wooden interior on the banks of the Mekong River. We also visit Wat Wisunalat – the oldest functioning temple in the city – and Wat That Luang, which houses the ashes of King Sisavang and Wat Wisunalat- the oldest functioning temple in the city. We also visit the National Museum, which is housed in the former Royal Palace. This afternoon we visit the Traditional Art and Ethnology Centre to learn about the diversity of ethnic groups in Laos. We climb up Mount Phousi for a wonderful view over the city.
Second of 4 nights in Luang Prabang. Villa Santi Resort or similar. Breakfast & Dinner.
DAY 7 Monday January 15
BAN XANGHAI & MEKONG RIVER CRUISE
This morning we drive to Ban Xanghai, known as "the village of the jar-makers", where the locals sell special jars filled with local rice wine. We can also observe local weavers at work. At Pak Ou village we take long-tailed boats across the Mekong River to explore the upper and lower Pak Ou Caves, carved into the steep rock cliffs where the Mekong and Ou rivers meet, where we admire the many Buddha images. Continuing south we visit the Kuang Si Waterfall, where crystal-clear water cascades 50 metres down through numerous turquoise blue pools. We visit the Tat Kuang Si Bear Rescue Centre, which was established in 2003 to care for mainly Moon Bears which have been confiscated from poachers. We take long-tailed boats for a sunset cruise along the Mekong back to Luang Prabang, along the way enjoying gorgeous views of the rice paddies, mountains and fishing villages.
Third of 4 nights in Luang Prabang. Villa Santi Resort or similar. Breakfast & Dinner.
DAY 8 Tuesday January 16
LANG PRABANG ELEPHANTS!

\
This morning we drive to Ban Xienglom and visit the Elephant Village on the banks of the Nam Khan River. Established in 2003, this is a sanctuary for elephants freed from hard and dangerous logging work. Not only do we get to meet these most gentle and intelligent of animals, but we get to ride on them through the local countryside. Today we include lunch instead of dinner
Fourth of 4 nights in Luang Prabang Villa Santi resort or similar. Breakfast & Lunch.
DAY 9 Wednesday January 17
(Fly) LANG PRABANG – HANOI, VIETNAMHANOI
This morning we fly from Luang Prabang (8.50am) – Hanoi (9.50am), the capital of Vietnam.
Today we enjoy a full-day guided tour of this beautiful city of French colonial-style buildings, shaded boulevards, lakes and public parks. The downtown is laid-out on a grid pattern with leafy side avenues. We visit the Ho Chi Minh Complex, which includes the house of the nation's founder as well as the Presidential Palace. The One Pillar Pagoda dates back to the very founding of the city, while the Temple of Literature was Vietnam's first university. The History Museum tells the nation's complex story. We will also explore the Old Quarter and see West Lake and Hoan Kiem Lake. This evening we have a chance to see one of the famous water puppet shows.
Overnight in Hanoi. Silk Path Hotel Hotel or similar. Breakfast & Dinner.
DAY 10 Thursday January 18
HANOI – HALONG BAY CRUISE
We drive through the countryside north east to Halong Bay, a UNESCO World Heritage Site since 1994, where the coast is dotted with limestone pinnacles rising vertically from the azure-blue sea. This really is one of the natural Wonders of the World! This afternoon we board our modern replica of a traditional "junk" (fishing boat) for a relaxed cruise among the 1,969 small islands where the wind and waves have carved out magnificent grottoes, where stalactites hang in wonderful patterns. Weather permitting we board small boats to visit the Sung Sot Caves. We spend tonight on a large, air-conditioned houseboat, enjoying wonderful hospitality and perfect peace – far from any town.
Overnight on Huong Hai houseboats or similar. Breakfast & Dinner.
DAY 11 Friday January 19
HALONG BAY – SAPA
This morning we continue our cruise on the Gulf of Tonkin among islands with names such as Incense Urn Island, Sail Island and Fighting Cocks Island. After disembarking, we drive the new direct highway to Sapa in the mountainous northwest, an area of stunning natural beauty and diverse ethnic minorities. Sapa was a former hill station built by the French in 1922 and sits regally overlooking a beautiful valley, lofty mountains towering over the town on all sides. Before leaving this area we stop at one of the traditional pottery villages.
First of 2 nights in Sapa. Chau Long ll Hotel or similar. Breakfast & Dinner.
DAY 12 Saturday January 20
SAPA
The valleys and villages around Sapa are home to a host of hill-tribe people who wander in to town to buy, sell and trade. Those who wish to, can join us this morning on a gentle 2 hour trek from Ta Van village among the rice terraces which spill down the mountain sides like a patchwork quilt to discover the lifestyle of H'mong and Dzao people. This afternoon we take a short walk thruogh the village of Cat Cat.
Second of 2 nights in Sapa. Chau Long ll Hotel or similar. Breakfast & Dinner.
DAY 13 Sunday January 21
HILL TRIBES/BAC HA MARKET – HANOI
This morning we drive to the weekly Sunday Bac Ha market and meet the H'mong and Dzao people, the largest ethnic groups in the region, among others. This evening we return to Lo Cai and board the overnight sleeper train for our return to Hanoi.
Overnight on sleeper train. Breakfast & Dinner.
DAY 14 Monday January 22
( Fly) HANOI – HUE
After our early morning arrival at Hanoi railway station we transfer to the airport for our short flight to Hue, the 19th Century Imperial city that was for a long time the cultural and intellectual centre of Vietnam. In Hue itself we explore the Imperial Citadel, which is modeled after the Forbidden City in Beijing. We visit the 7-storey Thien Mu Pagoda and enjoy a half-hour boat ride on the Perfume River.
Overnight in Hue. Huong Giang Hotel or similar. Breakfast & Dinner.
DAY 15 Tuesday January 23
HUE – HOI AN
The Khai Dinh tomb is the last monument of the Nguyen Dynasty, with a superb location on the slopes of Chau Mountain. We continue our exploration of this region with a visit to the Tomb of Emperor Minh Mang. We drive south to Danang through the Hai Van Pass, which offers spectacular views of the Truong Son Mountain Range over the South China Sea. This area was formerly the border between North Vietnam and South Vietnam in ancient times. At the Cham Museum we learn about the Hindu-influenced culture that reigned in this area from the 2nd to the 15th Centuries. We continue our drive to Hoi An, a picturesque riverside town that was one of South east Asia's major international ports from the 17th to the 19th Centuries.
First of 2 nights in Hoi An. River Beach Resort or similar. Breakfast & Dinner.
DAY 16 Wednesday January 24
HOI AN
HOI An is a UNESCO World Heritage site. This morning we enjoy the peaceful atmosphere as we visit sites such as the Quan Cong Temple, built in 1653 to honour an important Chinese officer. The Japanese Covered Bridge is over 400 years old and was constructed to link the Japanese community on one side of the river to the Chinese community on the other. Later today we have time to relax and enjoy the beach.
Second of 2 nights in Hoi An. River Beach Resort or similar. Breakfast & Dinner.
DAY 17 Thursday January 25
HOI AN – NHA TRANG
Early this morning we return to Danang, Vietnam's fourth largest city, seeing famous China Beach and the distinctive 5 humps of the Marble Mountains along the way. We fly south from Danang (06.10am) – Nha Trang (07.30am.) Nha Trang's location is beautiful, bordered by mountains with the beach tracing an impressive long sweep along a bay dotted with islands. Topiary and modern sculpture dot the immaculate foreshore. We begin our exploration of Nha Trang with a visit to the The National Oceanographic Museum (& Aquarium!), founded in 1923 and features tanks of colourful live marine life as well as stuffed birds and sea mammals. This afternoon we take a guided tour of the town including the Cham temples and the Lang Son Pagoda, where the entrance and roofs of are decorated with mosaic dragons constructed of glass and ceramic tile. At the top of the hill, behind the Long Son Pagoda, is a huge white Buddha seated on a lotus blossom and visible from all over the city. The platform around the 14 metre-high figure has great views of Nha Trang and nearby rural areas.
Overnight in Nha Trang. The Muong Thanh Hotel or similar. Breakfast & Dinner.
DAY 18 Friday January 26
NHA TRANG – DALAT
From the tropical coastal scenery of Nha Trang we drive inland past lakes, waterfalls and coniferous forests to the cool mountainous area around Dalat. Known as "The City of Eternal Spring", Dalat was a popular hill resort during French Colonial times, as can be seen from the chalets dotted across the hillsides. With its feeling of being in a town in the French Alps, Dalat today is the "honeymoon capital" of Vietnam. We stop for a photo of Datanla Lake. On arrival in Dalat we visit the Truc Lam Pagoda, the Domaine de Marie Cathedral and Boa Dai's Summer Palace.
Overnight in Dalat. Ngoc Lan Hotel or similar. Breakfast & Dinner.
DAY 19 Saturday January 27
(Fly) DALAT – HO CHI MINH CITY
This morning we fly from Dalat (08.10) – Ho Chi Minh City (09.00.) Formerly known as Saigon, Ho Chi Minh City is Vietnam's largest and most vibrant city. The contrast with leafy, refined Hanoi is everywhere to be seen. Upon arrival we take a driving tour including Chinatown and French Colonial areas including Notre Dame Cathedral, the Opera House, City Hall, the Central Post Office and the War Remnants Museum.
First of 2 nights in Ho Chi Minh City. Grand Hotel Saigon or similar. Breakfast & Dinner
DAY 20 Sunday January 28
MEKONG DELTA
Today we travel south into the huge delta of the Mekong River. Having seen the river over 4,000 Km north in Laos, it's impressive to see the extent of its flood plain as it approaches the South China Sea. As we enter the "rice bowl" of Vietnam, we see fruit orchards, villages and floating markets as well as the dazzling green paddy fields. The area is also known for the wide variety of colourful, fresh fruits and flowers grown here. We take a boat ride through the canals and visit a traditional fishing village.
Second of 3 nights in Ho Chi Minh City. Grand Hotel Saigon or similar. Breakfast & Dinner.
DAY 21 Monday January 29
CU CHI TUNNELS
This morning we explore the network of underground tunnels used by the Viet Cong in their fight against first the French and then the Americans. Over 10,000 soldiers and civilian staff were able to live and operate here below ground during the war.
Third of 3 nights in Ho Chi Minh City. Grand Hotel Saigon or similar. Breakfast & Dinner.
DAY 22 Tuesday January 30
(Fly) HO CHI MINH CITY – SIEM REAP, CAMBODIA
This morning we enjoy free time in old Saigon before catching our flight to Siem Reap in Cambodia.
Those finishing the tour in Vietnam fly home today, arriving in Vancouver the same day.
First of 2 nights in Siem Reap. Somadevi Hotel or similar. Breakfast & Dinner.
DAY 23 Wednesday January 31
ANGKOR WAT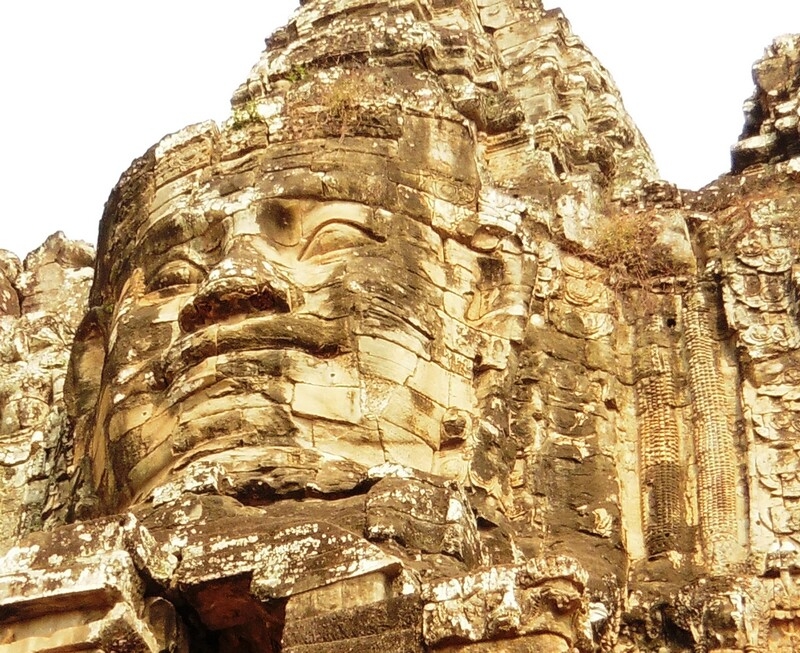 Today we explore one of the seven wonders of the world – Angkor Wat. This architectural masterpiece was built in the 12th Century and covers an area of about 210 hactares. We explore galleries, libraries, pavilions and courtyards. Intricately carved bas-reliefs extend the full length of the pink sandstone outer construction. We also see the Ta Keo Temple with the roots of jungle trees enveloping and invading the buildings and carvings – the works of nature complimenting the works of man.
Second of 2 nights in Siem Reap. Somedevi Hotel or similar. Breakfast & Dinner.
DAY 24 Thursday February 1
(Fly) SIEM REAP – PHNOM PENH
This morning we take a guided tour of the "Great City" of Angkor Thom, which was probably more opulent than most European cities in the late 12th Century. We continue to the Royal city of Preah Khan, which features fabulous carved stone lanterns andimpressive sculptures. This afternoon we fly from Siem Reap to Phnom Penh, the capital of Cambodia.
Overnight in Phnom Penh. Tea House Hotel or similar. Breakfast & Dinner.
DAY 25 Friday February 2
PHNOM PENH – HOME
This morning we take a guided tour of Phnom Penh, including the Royal Palace, National Museum, Russian Market and the Silver Pagoda. The Land tour finishes in Phnom Penh this afternoon after our city tour. For those taking our international flights we transfer this evening to Phnom Penh Airport and fly to Hong Kong where we connect to our flight to Vancouver, arriving the same day. Breakfast.
Terms, conditions and restrictions apply; pricing, availability, and other details subject to change and/ or apply to US or Canadian residents. Please confirm details and booking information with your travel advisor.
Our tours are exceptionally good value; we include ALL tipping as well as Breakfast & Dinner daily. Please note that we do NOT sell our tours through travel agents- you book directly with us! We invest 100% of our time & energy in delivering first-class service. Our company grows through long-term relationships with our satisfied travellers, one client at a time – by referral. If you like what you see… please tell your friends!
(updated May 17 2017)
FLIGHTS:
Please note that the cost of the airfare will be confirmed at the time of booking your flights and payment for the flights will be due at that time. Our preferred routing from Vancouver is with Cathay Pacific Airlines via Bangkok into Vientiane and returning from Phnom Penh via Hong Kong. Our flight price INCLUDES two nights' accommodation in Bangkok. You do NOT have to come to Vancouver to join this tour. Please call us for flights & fares from other cities. Please note that there will be an additional cost should you wish to travel with Cathay Pacific on dates different from our group arrival & departure dates. There will also be a charge for your arrival & departure transfers should you wish to travel with another airline or purchase the LAND ONLY package.
DEPOSIT: You can secure your place on the tour with a $400 per person non-refundable deposit. We take payment by cheque, VISA or MasterCard for the $400/ person DEPOSIT.
FINAL PAYMENT: We will sent you an invoice for full payment of the outstanding balance of the LAND TOUR in early October 2017 payment is due on November 9 2017. Prices quoted are for FINAL PAYMENT made BY CHEQUE. If you wish, you can pay the final outstanding balance by credit card (Visa or Mastercard) over the phone by the payment due date, however, there will be an administration fee of 3% added to the outstanding amount
WHATS INCLUDED
Accommodation mainly in the equivalent of North American 4 Star hotels. Vietnam, Cambodia and Laos use grading systems which do not directly correspond with North American standards. All our hotels have en-suite bathrooms and air-conditioning and are of a very high standard.
One overnight on an air-conditioned houseboat on Halong Bay + 2 overnights on trains with berths for sleeping.
Breakfast & dinner daily (except on Jan 13th) Usually we take dinner out at high-quality local restaurants in town.
Arrival and Departure Transfers if arriving on our group flights.
Land and water transport: by coach, taxi, motorboat, train, houseboat – and elephant!
International Flights: include 2 nights accommodation in Bangkok, including arrival & departure transfers in Bangkok, Vientiane & Phnom Penh.
Flight included in the Land tour cost: : Vientiane-Luang Prabang, Luang Prabang-Hanoi, Hanoi-Hue, Danang-Nha Trang,
Ho Chi Minh City-Siem Reap, and Siem Reap-Phnom Penh.
Sightseeing and entrance fees as mentioned in the itinerary.
All tips for group activities.
Guiding by Royal Heights tour leader ( Julie Bruce) with assistance of expert local guides.
WHAT'S NOT INCLUDED:
Visa fees. Please note your Canadian passport must be valid until at least September 16 2018. We shall obtain the visa for Laos on arrival in Vientiane. You will require 2 passport photos and US $45 cash. For Cambodia, you will require 1 passport photo. Cost for Vietnam visais US$25 cash. Please make sure your passport has at least three blank pages for the Visa stamps.
Lunches
Personal Expenses such as souvenirs, laundry, drinks not included at meals.
Trip Cancellation / Interruption and Medical Insurance. We offer trip insurance coverage with MANULIFE Insurance. Please contact us for a quote
Single Supplement charge, if requested ($1,500 Canadian)
SINGLE TRAVELLERS: Price is based on two people sharing a twin room. If you would like to share, we will do our best to find you a roommate. Should you wish to be GUARANTEED a single room the single supplement charge is $1,500 Canadian. Those people travelling alone but wishing to share will be informed 3 months prior to departure if a roommate is not currently available. At that point you will be invoiced for the single supplement If a roommate subsequently joins the tour, your single supplement will be refunded with the final tour documents.
OTHER NOTES:
Our office staff are not medically qualified to advise you on which immunizations you require. Please consult your local travel health clinic. Please note that Proof of yellow fever immunization is required for those arriving from infected areas.