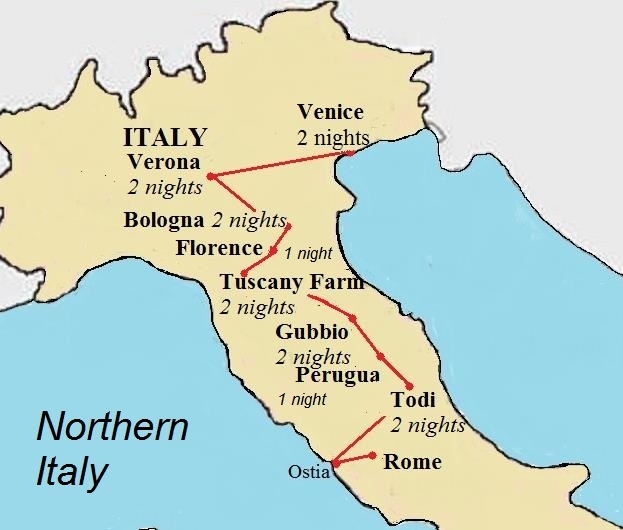 May 11-27, 2017
Rome, Todi,Gubbio, Perugia, Tuscany, Florence, Bologna, Verona & Venice
PLEASE LET US KNOW BEFORE JANUARY 31 IF YOU WOULD IKE TO JOIN THIS TOUR!
PLUS Optional 2 day Pre-tour extension to Rome, details are under DAY 17

LAND ONLY TOUR: $6,395/Per Person Starts in Rome & finishes in Venice:
AIRFARE: $1,500 approximate cost of airfare departing from Vancouver to Rome, returning from Venice

Combined TOURS:
Sicily, Southern Italy AND Northern Italy: April 24-May 27 2017 (34 Days)
LAND ONLY Cost $11,760/ person (includes May 10 & 11 in Rome between tours with Breakfast)


---
This tour is escorted by company co-owner Julie Bruce B.Sc… ( and she LOVES Italy!!)
On our tour of north central and north eastern Italy we immerse ourselves in the lifestyle and culture of the small towns and art centres we visit. Our focus is on the picture-perfect hill towns of Umbria and Tuscany where we learn about the food and wines of the region, as well as visiting the great art centres of Florence and Sienna. We learn about the rich history of the area – from the ancient Etruscans through Roman emperors and Popes to the Renaissance. We also enjoy the dramatic scenery of the Lake district's Lake Garda near Verona and end in the unique island city of Venice. We stay mainly in historic hotels that reflect the charm of the small towns we stay in. Please ensure you wear comfortable walking shoes as the pavements in Italy can be uneven and some of our walking tours can take up to three hours. When in Rome we take the opportunity to stay in a Monastery close to the Vatican City. This tour can be extended with 2 days in Rome which includes The Vatican & Coliseum before our main tour begins, for those who have not been to Rome before. See details at the end of our tour itinerary.
SPECIAL NOTE: Flight cost estimates are based on flights originating from Vancouver. Airfare will be confirmed at the time of booking your flights and payment for the flights will be due at that time.
Limited to 24 participants

UPDATED AT: (January 21 2017)
DAY 1 – THURSDAY May 11
Our group flights depart from North America to Rome
DAY 2 – FRIDAY May 12
Ancient Roman Port: Ostia Antica
We arrive this morning at Rome Airport (FCO) and transfer into the city to our monastery hotel straight away and rest up after our long flights before going out for our sightseeing. If our rooms are not available when we arrive, we will go on our sightseeing first and then to our hotel. Today we visit the archaeological site of Ostia Antica. This was the port of ancient Rome at the mouth of the Tiber River. The site is sometimes compared to Pompeii because, after the fall of Rome, it became covered in silt and very well preserved until it was excavated over 1,000 years later.
Overnight in Rome. Maria Alle Fornaci monastery or similar. Dinner is included if arriving in time.
DAY 3 – SATURDAY May 13
Rome – Etruscan Tombs – Todi
This morning we drive to the medieval town of Tarquinia, which was the site of one of the most important commercial centres in the Mediterranean from the 7th to the 4th Centuries BC. It wasn't until 204 BC that the Etruscans were eclipsed by the Romans and the city was annexed by Rome. Knowledge of this mysterious civilization was lost until the 19th Century. Today we explore the extensive necropolis of painted tombs and visit the excellent museum in Tarquinia to learn more about the Etruscans. From Tarquinia we turn inland across the hills of the Lazio region to Viterbo, Lazio's best-preserved medieval town. Viterbo became the residence of the Popes in the 13th Century. From Viterbo we continue northeast, leaving Lazio and entering Umbria, where we make our way through the hills to romantic Todi – our base for the next 3 days as we explore the countryside around about.
First of 2 nights in Todi. Fonte Cesia Hotel or similar. Breakfast & Dinner.
DAY 4 – SUNDAY May 14
Civita + Orvieto
This morning we drive out into the surrounding countryside to visit 2 very interesting small Umbrian villages. Today's excursion takes us first to the unique medieval village of Civita di Bagnoregio, which is only accessible by a 300 metre foot bridge. This afternoon we visit Orvieto, which perches on a 300 metre-high cliff of soft volcanic stone. Underneath the city the rock has been dug with 440 caves since Etruscan times. We take a tour of the maze of tunnels and chambers that make up Orvieto Underground. Down below street level, we learn the origins of the tufa plateau on which Orvieto sits and the fascinating purposes to which these hidden caverns have been put. First commissioned in 1293, the town's Cathedral took over 300 years to build. The bronze doors were not added until the 1960s! Inside, Luca Signorelli's fresco cycle "The Last Judgment", begun in 1499, is said to have inspired Michelangelo's work in the Sistine Chapel.
Second of 2 nights in Todi. Fonte Cesia Hotel or similar. Breakfast & Dinner.
DAY 5 – MONDAY May 15
Assisi + Deruta
This morning we visit the village of Deruta, famous for its ceramics. At the Museo Regionale della Ceramica part of the building extends into the adjacent 14th-century former convent of San Francesco. Half the museum tells the history of ceramics. The most notable are the Renaissance vessels using the lustro technique, which originated in Arab and Middle Eastern cultures some 500 years before coming into use in Italy in the late 1400s. Lustro, as the name sounds, gives the ceramics a rich finish, which is accomplished with the use of crushed precious materials, such as gold and silver. The museum also holds the country's largest collection of modern Italian ceramics—nearly 8,000 pieces are on display.
This afternoon we visit Assisi, the town of Saint Francis, still surrounded by ancient walls. We visit the Basilica of Saint Francis with its early Renaissance masterpiece frescoes on the Life of Saint Francis by Giotto and Cimabue.
First of 2 nights in Gubbio. Hotel Relais Ducale or similar. Breakfast & Dinner.
DAY 6 – TUESDAY May 16
Gubbio
This morning is free for you to explore the Piazza Grande [city square] and alleys of this charming hill town. Tuesday morning is market day and we give you time to wander! This afternoon we enjoy a walking tour of this historic town. Those who wish to may join us on a funicular ride which links the town with Monte Ingino (908 metres above sea-level) and the Basilica of Sant' Ubaldo – the patron Saint of Gubbio. The mountain is rich in beautiful pine woods and offers unforgettable views of Umbria and the Marches.
Second of 2 nights in Gubbio. Hotel Relais Ducale or similar. Breakfast & Dinner
DAY 7 – WEDNESDAY May 17
Gubbio-Cortona-Perugia
This morning we visit pretty Cortona, with olive trees and vineyards sweeping up to its walls, popularized by Frances Mayes's glowing descriptions in Under the Tuscan Sun. Cortona, is considered the oldest continuously-inhabited hill town in Italy. It has cyclopean walls – huge boulders roughly fitted together without mortar – that date back 3,000 years. We give you time to explore the winding alleys, pleasant squares, small cafés and restaurants at your own pace. The heart of town is formed by Piazza della Repubblica and the adjacent Piazza Signorelli. This afternoon we drive north to visit Perugia, a charming university town with an impressive Cathedral and the best art gallery in Umbria, the stunning Galleria Nazionale dell'Umbria in the Palazzo dei Priori.
Overnight in Perugia. Hotel Fortuna or similar. Breakfast & Dinner.
DAY 8 – THURSDAY May 18
Driving west, we leave the region of Umbria & The Marches and enter Tuscany with its rolling hills and gorgeous views at practically every turn. This morning we're off to the 13th century walled fortress-town of Monteriggioni, the northernmost citadel of Siena in its wars against Florence. The ancient hamlet within still retains its original appearance and has just 42 inhabitants! From Monteriggioni we drive to our base for the next 2 days in Tuscany – a beautiful farm near the town of Castellina in the Chianti wine region between Siena and Florence. In the afternoon we enjoy a hands-on cooking lesson at our farm with our host family to learn traditional dishes of the region. This evening we dine on our home cooked dishes!
First of 2 nights near Castellina in Chianti. Hotel Casafrassi or similar. Breakfast & Home-cooked Dinner.
DAY 9 – FRIDAY May 19
Sienna + San Gimignano + Wine tasting
Set in the most beautiful Tuscan countryside of rolling hills, lush vines and gray-green olive trees, and originally founded as a Roman military colony, Siena flourished during medieval times as an important banking center and was the great rival of Florence. Victory over Florence in 1260 marked the beginning of Siena's golden age. During the following decades Siena erected its greatest buildings (including the Duomo cathedral) and became a great art, textile and trade centre. Siena succumbed to Florentine rule in the mid-16th century. Ironically, it was precisely this decline that, along with the steadfast pride of the Sienese, prevented further development to which we owe the city's marvellous medieval condition today. With our guide, we walk the narrow cobbled streets lined with fine palaces to the superb Duomo and one of Italy's most beautiful squares, the celebrated Piazza del Campo, where the famed Palio horserace is run. After our guided tour, you have time on your own for exploring, shopping and lunch.. On our way home we visit San Gimignano, set high on a hill. The town is a medieval gem with its towers and piazzas and views of the countryside below. Also of Etruscan origin, San Gimignano was built up in the 13th and 14th centuries by noble families. In 1353 it was overpowered by the might of Florence and was forbidden further construction. The ramparts originally had 72 towers. The 14 towers that remain mark the town's distinctive skyline. Returning to our 'agritourismo" farm we enjoy a wine tasting of three types of wine famous in this region. Second of 2 nights near Castellina in Chianti. Hotel Casafrassi or similar. Breakfast & Dinner.
DAY 10 – SATURDAY May 20
Florence
In the romantic region of Tuscany lies the jewel city of the Renaissance, Florence. Surrounded by the Appenine mountain chain it lies in a fertile valley surrounded by charming Tuscan vineyards and olive groves. The art galleries and museums of Florence are renowned throughout the world and visitors flock to admire Michaelangelo's superb statue of David, Botticelli's Venus and the stunning Duomo cathedral with its marble facade. The city is not only culture, however. Today we enjoy a guided sightseeing tour of the cradle of the Renaissance. We visit the beautiful Piazza del Duomo, the Cathedral of Santa Maria del Fiore whose gigantic "cupola" is the symbol of Florence's artistic achievements, Giotto's Bell Tower and the Baptistery of St. John with its fine bronze doors adorned with the famous Gates of Paradise, the Academy of Fine Arts Gallery (the Accademia) housing the "David" by Michelangelo. Today we include lunch together. This afternoon we have an appointment at the Uffizi Gallery, the most famous art museum in Italy, where we'll find masterpieces by Botticelli, Raphael, Leonardo da Vinci and Caravaggio.
Overnight in Florence. Boscolo Hotel Astoria or similar. Breakfast & Lunch. [Dinner at your leisure in Florence.]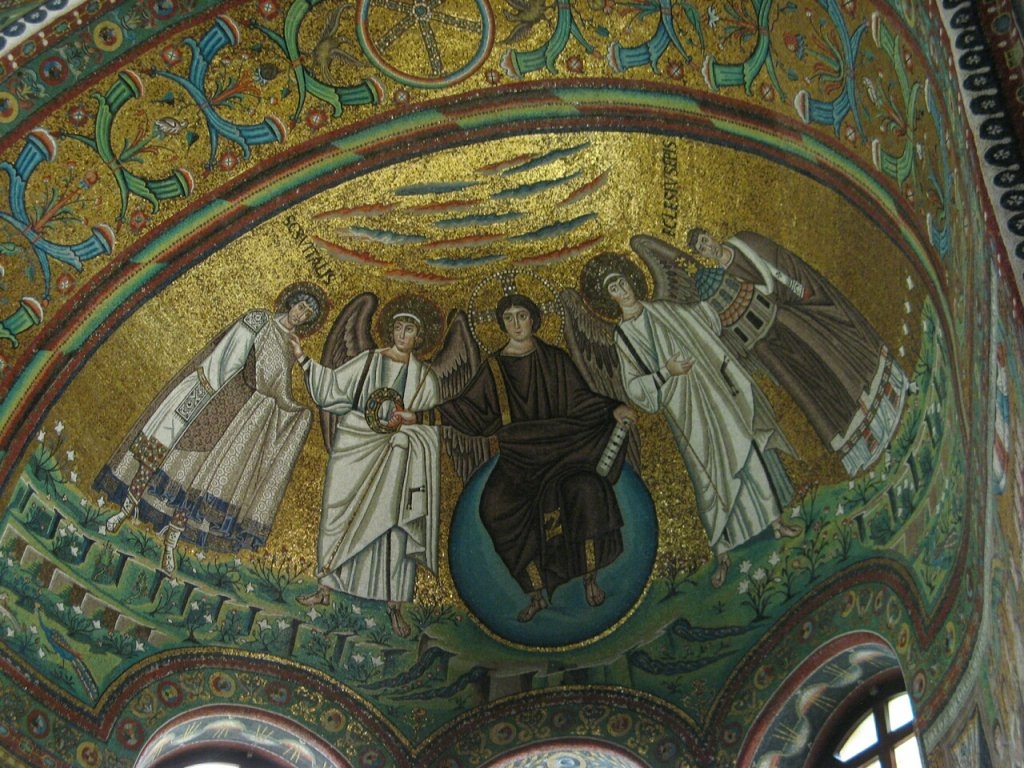 DAY 11 – SUNDAY May 21
Florence – Bologna
This morning is free for you to explore Florence. You can return to visit the stunning Duomo or take an optional tour of an example of an Italian "formal" garden: the world-famous 'Boboli Gardens.' The gardens were enlarged in the 17th century to their present extent of 45,000 metres2 (II acres). The Boboli Gardens have come to form an outdoor museum of garden sculpture that includes Roman antiquities as well as 16th and 17th century works. Early this afternoon we drive northeast from Tuscany into the underrated region of Emilia-Romagna, an area rich in art and culture, mouth-watering food and robust wine. The regional capital, Bologna, is one of Italy's unsung joys. It is home to Europe's oldest university and a stunning medieval centre. Bolognese food is considered by many as the best in Italy.
First of 2 nights in Bologna. Tre Vecchi Hotel or similar. Breakfast & Lunch
DAY 12 – MONDAY May 22
Bologna + Ravenna
This morning we drive east to Ravenna, a small, quiet, well-heeled city of brick palaces, cobbled streets, magnificent monuments and world famous Byzantine mosaics. The high point in the city's history occurred in the 5th century, when Pope Honorious moved his court here from Rome. Gothic kings Odoacer and Theodoric ruled the city until it was conquered by the Byzantines in AD 540. Churches and tombs with the most unassuming exteriors contain within them walls covered with stunning Byzantine mosaics. Today we include lunch together. We return to Bologna, a city rich with cultural jewels, which has long been one of the best-kept secrets in northern Italy. With its population of about 375,000, it feels full of Italians in a way that many other towns, thronged with tourists, do not. The charm of the Centro Storico, with its red-arcaded sidewalks and passageways, can be attributed to wise city councillors who, at the beginning of the 13th century, decreed that roads could not be built without portici (porticoes). This afternoon we take a guided walking tour of this fascinating medieval town and discover the artistic treasures around its charming main squares, Piazza Maggiore and Piazza del Nettuno. This evening is free for you to try dinner at one of Bologna's wonderful restaurants (at your own expense.)
Second of 2 nights in Bologna. Tre Vecchi Hotel or similar. Breakfast & Lunch
DAY 13 – TUESDAY May 23
Bologna – Verona
This morning we head to the Parma area, home of the legendary parmigiano reggiano (Parmesan cheese) We visit a traditional Parmesan cheese factory. After watching the workers go through all the fascinating steps in making the cheese and visiting the incredible storage rooms, we nibble on parmesan cheese made right in the factory. Driving further west to the home of balsamic vinegar we see how this signature product is made and we sample varieties of heavenly-scented balsamic vinegar. Turning north, we drive to serene and beautiful Mantua (Mantova in Italian) lying on the shores of the lakes Lago Superiore, Lago di Mezzo and Lago Inferiore. The Latin poet Virgil was born just outside the modern town in 70 BC. Shakespeare's Romeo found his fateful poison in a Mantuan pharmacy. Superb architecture, bearing witness to its rich history, still survives today; particularly around its four interconnected cobbled squares in the city's heart. Further north we arrive at Verona, one of Italy's most magnificent and picturesque cities. Situated on the looping Adige River, Verona boasts wide pedestrian lanes and squares, elegant shops and cafés. Roman origins are amply demonstrated by the ancient forum, theatre and famous amphitheatre – one of the best preserved of antiquity.
First of 2 nights in Verona. Hotel Firenze or similar. Breakfast & Dinner.
DAY 14 – WEDNESDAY May 24
Italian Lake District + Verona
Lake Garda encompasses an immense 370 square kilometres and is the largest lake in Italy. In the centre of the southern shore, on a narrow peninsula, is the charming village of Sirmione with a castle at its entrance and a maze of Roman ruins on its headland. After our guided walking tour, we board a boat for a half hour cruise that will take us around this small peninsula. Returning to Verona, immortalized by Shakespeare as the home of the star-crossed lovers, Romeo and Juliet, we explore its rich medieval heritage on foot. Among many sites, we see Juliet's House and the Roman Arena.
Second of 2 nights in Verona. Hotel Firenze or similar. Breakfast & Dinner.
DAY 15 – THURSDAY May 25
Verona – Padua – Venice
We drive east to Padua (Padova in Italian), home to Italy's second-oldest university (1221), counting among its illustrious alumni Petrarch, Dante and Galileo. The city is also the setting for Shakespeare's The Taming of the Shrew. The Prato Della Valle is reputed to be the largest square in Europe and is stunning with its many statues gracefully adorning it and its surrounding arcaded streets. Padua is also famous for Saint Anthony – the patron saint of children & miracles – whose shrine attracts millions of visitors every year. We take a guided tour of this impressive Basilica. Later we travel from Padua to the Lagoon of Venice and enter this unique island city. After settling into our hotel, we take a guided orientation tour including the Piazza and Basilica of St. Mark and the Bridge of Sighs.
First of 2 nights in Venice. Hotel Bellepoque or similar. Breakfast & Dinner.
DAY 16 – FRIDAY May 26 Venice Islands: Murano & Burano
This morning we board our comfortable motor boat to explore some of the other islands in the Venetian lagoon. Our first stop is Murano, famous for its glassware. We watch the skilled glass-blowers as they create works of art of the world-famous Murano glass. Re-boarding our motor boat we journey to the island of Burano to admire picturesque fishermen's houses painted in bright pastel colors and the famous lace. You also have free time to visit a museum dedicated to the craft of lace making [optional expense.] This afternoon is free in Venice.
Second of 2 nights in Venice. Hotel Bellepoque or similar. Breakfast & Dinner.
DAY 17 – SATURDAY May 27
This morning we fly home to North America, arriving the same afternoon.

ROME & THE VATICAN: OPTIONAL 2 DAY PRE-TOUR EXTENSION
$975 per person Canadian
Single supplement :$99
Those who wish to may add extra days in Rome before our tour and/or in Venice after the tour.
Day 1: Tuesday May 9
Today we fly from North America to Rome.
Day 2: Wednesday May 10
Rome
We arrive this morning at Rome Airport and transfer to our hotel in the "Eternal City." We rest up after our long flights before going out for our afternoon walking tour of the first part of our sightseeing of this magnificent city. Today we visit the Piazza Navona, the Pantheon, the Spanish Steps and The Trevi Fountain which was built by the architect Salvi in 1735 and decorated by several artists of Bernini's school. The fountain is not only celebrated for its excellent water but for the legend that whoever throws a coin into the fountain will return to Rome.
First of 2 nights in Rome. Maria Alle Fornaci monastery or similar. Dinner.
Day 3: Thursday May 11
The Vatican + the Coliseum
This morning we experience the Vatican City, a state and a city all in one! This is the world's smallest country, with its largest church and an impressive collection of fine art. We visit the Vatican Museum, the Candelabra Gallery and the Tapestry Gallery. We see Michelangelo's masterpieces inside the Sistine Chapel and St Peter's Basilica, begun in 1508. We'll see the master's best known fresco, the Last Judgement, covering one entire wall of the chapel. In and around the square are Swiss Guards, young Roman Catholic citizens of Switzerland wearing Renaissance-style uniforms in the bright colors of the Medici Popes. This afternoon we visit the Coliseum (interior visit), the largest amphitheatre of the Roman Empire, which is considered one of the greatest works of Romanarchitecture and engineering. It is the largest amphitheatre in the world. Construction for the Coliseum began under the emperor Vespasian in 70 AD, and was completed in 80 AD. The Coliseum could hold, it is estimated, between 50,000 and 80,000 spectators and was used for gladiatorial contests and public spectacles such as mock sea battles, animal hunts, executions, re-enactments of famous battles, and dramas based on Classical mythology. Just west of the Coliseum we see the Roman Forum, the central area of the city around which ancient Rome developed. Here was where commerce, business, prostitution, cult worship and the administration of justice took place. The Roman Forum was the real historical centre of Republican and Imperial Rome with its ancient temples, triumphal arches, honorary columns, ancient pagan cemeteries and the covered market on four levels. Behind the Forum and Palentine Hill lies the Circus Maximus, an ancient Roman chariot racing stadium.
Second of 2 nights in Rome. Maria Alle Fornaci monastery or similar. Breakfast & Dinner.
Terms, conditions and restrictions apply; pricing, availability, and other details subject to change and/ or apply to US or Canadian residents. Please confirm details and booking information with your travel advisor.