Jan 12 - Feb 6, 2017 SOLD OUT
Madras, Madurai, Houseboat in Kerala, Goa, Bombay, Aurangabad , Udaipur, Jaipur , Khajuraho, Varanasi, Delhi.
There is just SO MUCH to see and explore in India…Our tour combines the lesser-known sites of South India as well as the famous highlights of the North. We fly most sections of our route so we can cover more areas of the country. However, we travel overland by our own air-conditioned coach on several sections…. we also travel by houseboats on inland waterways, rickshaws through busy streets & elephants to the Amber Fort!
Where possible, we try to spend more than one night in an area and the hotels on this tour are of an excellent, Western 4- and 5-star standard. This is one of my personal favorite tours and 2017 will be my fifth time escorting our tour to this magical country!… Please call with any questions – I look forward to talking with you… Warm regards. Julie Bruce Our travellers say: "loved the old Hindu and Buddhist caves ,old Hindu temples…travel on the Ganges River, visiting Gandhi's museum, visiting old castles and forts and of course the Taj …..also Julie was full of fun and information about the culture and history of India" MH Vancouver BC India 2011 "The tour was impeccably organized. We could never have covered so much ground on our own in so short a time. It truly gave us a taste of India. I like the fact that your company is family run and that our fellow tour members were from home". India Jan 2011 DS Richmond BC "Thank you for a most wonderful trip!! Can't say enough about your tour and India! What a wonderful country. And the people– so friendly and humble and welcoming" India, November 2014 CL BC "I really enjoyed the wonderful hotels. The Taj Mahal was my favorite spot but there were many more. There is so much history in India. We only touched the surface in 28 days but we did see as much as we could." India November 2014 EC Cobble Hill BC "I enjoyed traveling in both North and south India and not just the tourist "highlights" which are visited by all visitors" India Nov 2014 LB Vancouver BC
Information about the 4 day POST TOUR extension to go on a tiger safari to Corbett National Park is found at the end of the day-by-day itinerary after DAY 26
GROUP FLIGHTS: Our airfare includes arrival transfers in Hong Kong & Madras & departure transfers in Hong Kong & Delhi, Hotel in Hong Kong, tour of Hong Kong and night of Jan 14th in Madras. (Group size limited to 24 participants)
SPECIAL NOTE: Flight cost estimates are based on flights originating from Vancouver. Airfare will be confirmed at the time of booking your flights and payment for the flights will be due at that time. This is the cultural trip of a lifetime!
UPDATED AT: November 18, 2016
DAY 1 – THURSDAY January 12 2017
Those taking our international flights fly from North America.
DAY 2 – FRIDAY January 13
HONG KONG
Those taking our international flights arrive this evening in Hong Kong and transfer to our hotel.
The Prudential Hotel or similar.
DAY 3 – SATURDAY January 14
HONG KONG – CHENNAI, INDIA
Those taking our international flights enjoy a free morning and a guided tour of Hong Kong in the afternoon. Our tour will highlight the lesser-visitted sights of Hong Kong mainland; the flower & bird markets and the Sik Sik Yuen Wong Tai Sin Temple in Kowloon. This evening we board our late night flight to Madras (Chennai).
First of 3 nights in Madras. Hablis Hotel or similar.
DAY 4 – SUNDAY January 15
MADRAS
Free day in Madras/Chennai. The LAND ONLY tour for India begins at our hotel this evening Second of 3 nights in Madras Hablis Hotel or similar.
Breakfast for those taking our international flights. Dinner for those arriving in time.
DAY 5 – MONDAY January 16
MADRAS & MAHABALIPURAM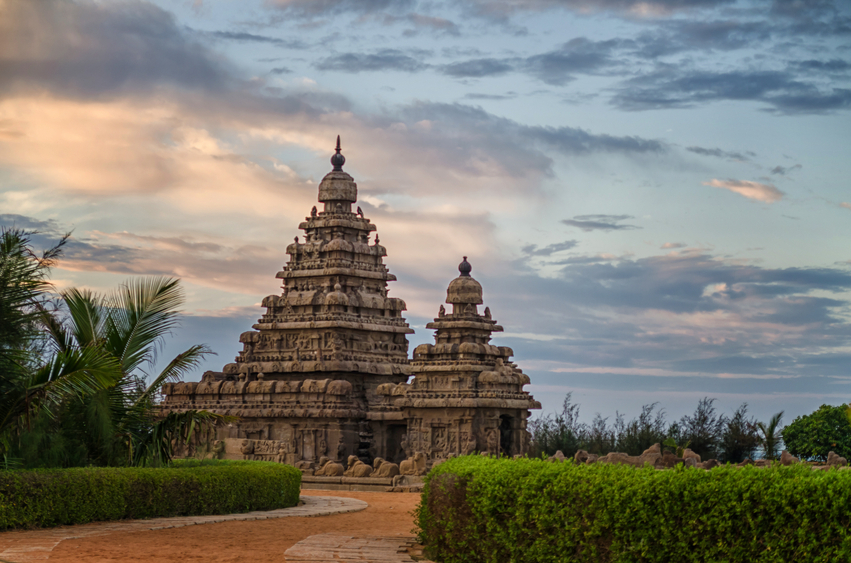 This morning we take a driving tour of the vibrant and proud capital city of the state of Tamil Nadu, Madras (now called Chennai.) We see Fort St George which was begun by the East India Company around 1640. We also see the buildings housing the Tamil Nadu Government Secretariat and Legislative Assembly. Driving along Beach Road we can admire Madras' beaches on one side and fine public buildings on the other. Later we drive down the coast to the village of Mahabalipuram. Here we find pure, ancient Hindu art such as the epic frieze known as Arjuna's Penance carved directly into the rock face.
Third of 3 nights in Madras. Hablis or similar. B & D
DAY 6 – TUESDAY January 17
MADRAS – MADURAI
This morning we take the short flight from Madras into the heart of tropical South India to the "Temple City" of Madurai. This afternoon we take a guided tour of Madurai. We begin with a visit to the stunning Palace of Thirumalai-Nayak, built by the most famous king of the 17th century Nayak dynasty. Leaving the palace we walk through the teeming market streets of Madurai to the main temple complex which is believed to be covered in over 33 million sculptures!
Overnight outside Madurai. Gateway Hotel Pasumalai or similar. Breakfast & Dinner.
DAY 7 – WEDNESDAY January 18
MADURAI – PERIYAR
This morning, travelling in our own air-conditioned coach, we cross from Tamil Nadu state into the state of Kerala. This afternoon we take a tour of a spice plantation in the surrounding hills.
Overnight in Periyar. Poetree Sarovar Portico Hotel or similar. B & D.
DAY 8 – THURSDAY January 19
PERIYAR – SPICE HILLS – INLAND WATERWAYS – HOUSEBOATS
This morning we travel overland in our air-conditioned coach through dramatic mountains to the southwest coast of India, bordering the Arabian Sea. This afternoon we travel a sheltered inland waterway by motor launch from Kumarakom. We spend tonight on air-conditioned houseboats on one of the lakes, enjoying wonderful hospitality and perfect peace – far from any town.
Overnight on Lake n Lagoons houseboats or similar. Breakfast & Dinner.
DAY 9 – FRIDAY
January 20 COCHIN
After enjoying a relaxing start to the day observing life along the waterways, we pick up our bus again at Allepey for the journey to Kerala's main city, Cochin. Upon arrival, we take a short tour of old Cochin, laid out at the entrance to a large bay which forms a natural harbour. We explore the quaint streets in the old Fort Cochin area with their 17th century Dutch and traditional Kerala architecture. This evening we have a chance to see the famous Kathakali dancing with its elaborate masks and costumes.
Overnight in Cochin. Holiday Inn or similar. Breakfast & Dinner.
DAY 10 – SATURDAY January 21
COCHIN – GOA
This morning we fly from Cochin to Goa which was the capital of the Portuguese empire in the east from the early 16th Century. Goa today is a relaxed, tropical paradise exhibiting a fusion of Indian and Portuguese influences. Later this afternoon we have time to enjoy swimming in the warm Arabian Sea and wandering the beach to see the fishermen bringing in their catches.
First of 2 nights in Goa. Taj Exotica Hotel or similar. Breakfast & Dinner.
DAY 11 – SUNDAY January 22
GOA SIGHTSEEING
After our relaxed start, we drive to the site of Old Goa. We visit the Cathedral of St Catherine which was completed in 1619 and is the largest Christian church in Asia. Across the central plaza of Old Goa is the Basilica of Bom Jesus, where the mortal remains of St Francis Xavier are enshrined. We also have time to explore Goa's capital city- Panjim. Situated at the mouth of the Mandovi river, Panjim is reminiscent of a provincial Mediterranean town. The downtown is laid out on a grid pattern with leafy side avenues.
Second of 2 nights in Goa. Taj Exotica Hotel or similar. Breakfast & Dinner.
DAY 12 – MONDAY January 23
GOA FREE TIME – BOMBAY – AURANGABAD
After a relaxing morning at the beach we fly from Goa to Aurangabad via Mumbai.
First of 2 nights in Aurangabad. Taj Residency Hotel or similar. Breakfast & Dinner.
DAY 13 – TUESDAY
January 24 AJANTA CAVES
Aurangabad is named after the last of the great Moghul emperors, Aurangzeb (1685-1707.) Today we visit the Ajanta Caves, Second Century Buddhist caves hewn on an enormous scale from the living rock and painted with vivid scenes from the life of the Buddha.
Second of 2 nights in Aurangabad. Taj Resindency Hotel or similar. B & D.
DAY 14 – WEDNESDAY January 25
ELLORA + FLY TO BOMBAY
This morning we visit some of the 34 rock-cut temples in the Ellora Caves group, a UNESCO World Heritage site. There are 12 Buddhist (600-880 AD), 5 Jain (800-1000 AD) and 17 Hindu (900 AD) structures. The main structure at Ellora is considered to be the largest rock-cut monument in the world. Late this afternoon we return to Aurangabad and take the short flight back to Bombay.
First of 2 nights in Bombay/Mumbai. Trident Nariman Point Hotel or similar. Breakfast and Dinner.
DAY 15 – THURSDAY January 26
BOMBAY + ELEPHANTA CAVES
This morning we make our way to the symbol of Bombay – the Gateway of India – and the splendid Taj Mahal Hotel. From here we take a motor launch trip to Elephanta Island to visit the caves with their 6th Century sculptures dedicated to the Hindu god Shiva. These are a UNESCO World Heritage Site. This afternoon we take a city tour of Bombay to see some of its splendid Victorian buildings from the era of the British Raj, including the High Court, Rajabhai Clock Tower and Victoria Terminus railway station. We will also see the Dhobi Ghat, the largest outdoor laundry in the world. We will also visit the Mani Bhavan, where Mahatma Gandhi stayed when visitting Bombay.
Second of 2 nights in Bombay/Mumbai. Trident Nariman Point Hotel or similar. Breakfast and Dinner.
DAY 16 – FRIDAY January 27
BOMBAY – UDAIPUR
This morning we continue our sightseeing in Bombay. We drive along Marine Drive, popularly known as the Queen's Necklace. We view the memorial to Haji Ali, a Muslim saint, and drive to the area of the Hanging Gardens, sacred to the Parsi religious sect of fire worshippers, for a splendid view of the city. This afternoon we fly from Bombay to Udaipur in Rajasthan
First of 2 nights in Udaipur. Radisson Blu Resort or similar. Breakfast & Dinner.
DAY 17 – SATURDAY January 28
UDAIPUR
Today we enjoy a city tour of Udaipur. This morning we cruise on Lake Pichola before we visit the City Palace, which is the largest complex of palace buildings in Rajasthan, being built over a period of 400 years. From the City Palace we look across the water to the famous Lake Palace, now one of the world's most exclusive hotels. Second of 2 nights in Udaipur. Radisson Blu Resort or similar. Breakfast & Dinner
DAY 18 – SUNDAY January 29
UDAIPUR – JAIPUR
This morning we make our way to Jaipur, the capital of the state of Rajasthan. This 'pink city' is justifiably world-famous. Built in 1728, the city is laid out according to the principles of perfect Hindu architecture but there are also Jain, Moghul and Bengali influences.
First of 2 nights in Jaipur. Holiday Inn City Centre or similar. Breakfast & Dinner.
DAY 19 – MONDAY January 30
JAIPUR + AMBER FORT
The Amber Fort, built in 1592, is considered to be the most magnificent of all the palaces of the Rajput kings. We mount our decorated elephants for the ride up the hill and into the actual fortress-palace, where we take a guided tour. This afternoon we take a guided tour of Jaipur city. The City Palace is now a superb museum. The Mubarak Mahal (Palace of Welcome) contains an exhibition of musical instruments, textiles and clothes. Above the doors of the Armoury 'Welcome' is spelt out in knives and 'Goodbye' in pistols! In the Sharbata- badra (Hall of Private Audience) we will see two urns which are the largest silver items ever made. Four colourfully-decorated Peacock Doorways lead into rooms filled with fine Moghul glass. The Art Gallery contains a superb collection of carpets, miniature paintings and over 20,000 manuscripts. We also visit the Jantar Mantar, an extraordinary astrological observatory built for Maharaja Jai Singh II in the early 18th century. We will see the rose coloured city walls which have seven monumental gates. This evening we take a rickshaw ride through the bustling streets.
Second of 2 nights in Jaipur. Holiday Inn City Centre or similar. Breakfast & Dinner.
DAY 20 – TUESDAY January 31
JAIPUR – FATEHPUR SIKRI – AGRA
This morning on our way out of the city we stop to see the most photographed building in Jaipur and one of the symbols of India – the Hawa Mahal (Palace of the Winds). Our drive today takes us to the Moghul "ghost city" of Fatehpur Sikri. Between 1570 and 1582 Akbar the Great had a totally new, planned city built here in red sandstone. His grand plan was to move the capital of the Moghul Empire here in thanks to a local saint who had granted Akbar's prayers for a son. Akbar used the opportunity to experiment with different architectural styles. Unfortunately, water was short so, after only 14 years, the city was abandoned and the capital moved back to Agra. Driving further east we come to Agra, home of one of the most recognisable buildings on earth – the Taj Mahal.
First of 2 nights in Agra. Crystal Sarovar Hotel or similar. B & D
DAY 21 – WEDNESDAY February 1
AGRA (TAJ MAHAL)
Our tour of Agra includes a visit to the Red Fort, the centre of the early Moghul Empire for over 150 years. We will see graceful royal apartments and palaces from the reigns of Akbar and Shah Jahan. The fort, built on an outcrop above the Yamuna River, affords superb views downstream to the Taj Mahal. This afternoon we time our visit to the magnificent Taj Mahal to coincide with sunset.
Second of 2 nights in Agra. Crystal Sarovar Hotel or similar. Breakfast & Dinner.
DAY 22 – THURSDAY February 2
AGRA – KHAJURAHO
This morning we get a chance to sample the famous Indian railway system as we travel by train from Agra to Jhansi and transfer by our own coach to Khajuraho.
Overnight in Khajuraho. Jass Radisson Hotel or similar. Breakfast & Dinner.
DAY 23 – FRIDAY February 3
KHAJURAHO – VARANASI
This morning we take a guided tour of Khajuraho, the capital of the obscure but powerful Chandela kings. One thousand years ago the Chandelas built 85 temples to the glory of God, of which 22 survive today. These temples are designed to lead one's eyes ever upwards over ornately carved friezes and sculptures. Khajuraho is famous for its erotic sculptures, but these form only a small part [2%] of the wealth of the site. The majority of the sculptures depict the everyday life of the people and the court of this long-vanished civilization. Early this afternoon we take the short flight from Khajuraho to Varanasi , often called "the eternal city" because it has been the most holy city for Hindus for thousands of years.
Overnight in Varanasi. Radisson Hotel or similar. Breakfast & Dinner.
DAY 24 – SATURDAY February 4
VARANASI BOAT RIDE + DELHI
The most famous feature of Varanasi is the ghats. These are steps that stretch nearly four miles along the bank of the holy River Ganges and lead pilgrims down to the waters themselves. We take a boat ride on the river just at dawn. We sail past the Bathing Ghats and the Burning Ghats, where bodies are burned according to ancient Hindu rituals and the ashes scattered in the river. After our boat ride we return to our hotel for breakfast. After visiting the city of Varanasi itself we travel 4 miles north to Sarnath where the Buddha delivered his first sermon after attaining enlightenment. Here we will see the Dhamekh Stupa, an Ashokan pillar and the museum which contains some fine sculptures. Later this afternoon we fly from Varanasi to Delhi.
Overnight in Delhi. The Atrio Hotel or similar. Breakfast & Dinner.
DAY 25 – SUNDAY February 5
OLD & NEW DELHI
Today we enjoy a full day guided tour of India's capital. We visit the world famous Baha'i House of Worship (also known as "The Lotus Temple"), which is designed in the shape of a 27-petalled, white marble lotus flower. Its main auditorium can seat 1,300 people and the magnificent building is surrounded by 9 pools of water and 92 hectares (227 acres) of lawns. Rajghat is a place of national pilgrimage, where Mahatma Gandhi was cremated in 1948. Stepping back in time, we explore the ruins at Lal Kot. Dominating the site is the 12th century Qutab Minar fluted tower which rises 72 metres (235 feet) and is decorated with five balconies plus inscriptions from the Muslim holy book, the Koran. In New Delhi we will see the huge India Gate war memorial, India's Parliament House, the Secretariat Buildings, the 340-room Presidential Palace and many residences from the time of the British Raj. We complete our tour of Delhi with a visit to the National Museum where nearly 200,000 artefacts cover over 5,000 years of Indian history. The Land tour finishes in Delhi this afternoon after our city tour.
For those taking our international flights we transfer this evening to Delhi Airport and fly to Hong Kong where we connect to our flight to North America, arriving on February 6. Breakfast.
DAY 26 – MONDAY February 6
Today, we arrive in North America.
POST TOUR: Tiger viewing in Corbett National Park [Excursion from Delhi]
$995 Canadian/person/ sharing
$399 Canadian single supplement

Sunday Feb 5 2017:
Delhi After our group tour of old and new Delhi we return to our hotel.
Second of 2 nights in Delhi. Atrio Hotel or similar. Breakfast & Dinner.
Monday Feb 6 2017:
Delhi – Corbett National Park
After breakfast we drive with our guide from Delhi to Corbett (5 – 6 hours.) Located in the foothills of the Himalayas, Corbett National Park is home to a variety of flora and fauna. It is most famous for its populations of Tigers, Leopards and wild Elephants. Corbett was established in 1936, as the Hailey National Park. India's first national park and the first sanctuary to be designated under Project Tiger, Corbett supports a variety of vegetation making it the ideal habitat for the Tiger and its prey.
First of 2 nights in Corbett National Park. River View Retreat or similar. Breakfast, Lunch and Dinner.
Tuesday Feb 7 2017:
Corbett National Park
Once a popular hunting ground of the British, this 201 square mile park was named in honor of the late Jim Corbett, the legendary hunter-naturalist turned author and photographer who spent most of his years in this area and contributed in setting up the park. With the help of the World Wildlife Fund, Project Tiger was launched in Corbett National Park in 1973. This morning we take a tiger-spotting ride on elephants, which provide the ideal vantage point to see the elusive big cats in the long grass and reeds. We return to our lodge for lunch. After lunch we take a safari in jeeps to explore more distant areas of the park.
Second of 2 nights in Corbett National Park. River View Retreat or similar. Breakfast, Lunch and Dinner.
Wednesday Feb 8 2017:
Corbett – Delhi
This morning we drive back to Delhi (5 – 6 hours) and make our way to the airport for our late evening flight home. Breakfast
Terms, conditions and restrictions apply; pricing, availability, and other details subject to change and/ or apply to US or Canadian residents. Please confirm details and booking information with your travel advisor.
Tour Videos
I enjoyed traveling on this tour
I enjoyed traveling in both North and south India and not just the tourist "highlights" which are visited by all visitors.t

By LB Vancouver BC trip to India
Julie was full of fun and information about the culture
I loved the old Hindu and Buddhist caves ,old Hindu temples…travel on the Ganges River, visiting Gandhi's museum, visiting old castles and forts and of course the Taj …..also Julie...

By MH Vancouver BC trip to India